SPMAO ANNUAL CONFERENCE
MARCH 24TH, 2021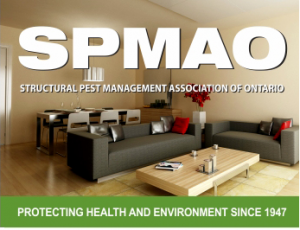 REGISTRATION $75 + HST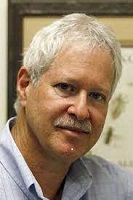 Michael F. Potter, Ph.D.
The Itchy Client: Case Studies and Solutions
♦ One of the most maddening (and mishandled) pest control events is when clients complain that they're being "bitten" by invisible insects. This informative talk describes the most likely sources of such irritations, and provides a blueprint for helping to resolve them. Included are case studies from both residential and commercial accounts. An article, Mystery Bites: Diagnosis & Management, will be included as a handout to educate clientele.
Bed Bugs and the Bottom Line
♦ It's been 15 years since bed bugs began reappearing in our accounts. Infestations are impacting all of society and commanding time and resources of the pest management industry. Are we making any progress in the war on bed bugs? Are there more effective, affordable alternatives for management and prevention?  Will there ever be another societal solution? This presentation offers a bottom-line assessment of the bed bug situation, including relevant research findings and tips that companies and their clients will find useful.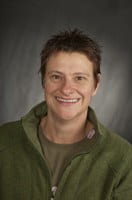 Dr. Nina Jenkins
Bed bug biology, management, chemical resistance and implementation of new tools for strategic control and prevention of bed bug infestations
♦ Bed bug biology ♦ Assessment based management and observational biology ♦ Bed bug movement and spread in multifamily housing ♦ Resistance management and the importance of follow-up ♦ Introduction to Aprehend® – unique mode of action ♦ Overview of Aprehend® strategic application ♦ Homeowner preparation and expectations – the ideal scenario, and how to deal with those difficult cases ♦ Thinking strategically – barrier placement for optimal control|Pro-active treatments ♦ Looking at the label and SDS – PPE and other precautions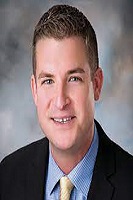 Patrick Lynch, ACE, Senior Vice President of Sales, Bell Laboratories
iQ products, powered by Bell Sensing Technologies, change the way you do rodent control, for the better.
Below are a few ways iQ products make your rodent control service more profitable:
♦ Increase Revenue ♦ Decrease Cost ♦ Service more accounts per day per technician ♦ Labor savings at accounts ♦ Higher customer retention ♦ Lower turnover & recruitment costs ♦ Give your sales team the ability to upsell ♦ Targeted rodenticide usage ♦ Automatically collecting rodent activity with iQ products provide a roadmap for more efficient service, higher customer satisfaction and ultimately, increased profits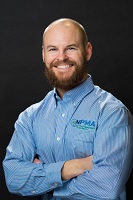 Michael Bentley, Ph.D., BCE
Norway Rat Presentation
REGISTRATION $75 + HST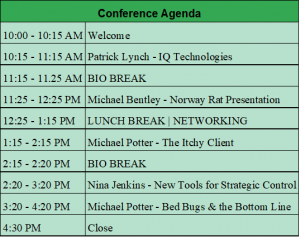 ==================================================================